The Brighton & Hove Property Market
If you are already a Brighton & Hove local, you will understand how high house prices are, both rental and for purchase. You would think that the Coronavirus pandemic would have slowed down the continuous growth in the UK but it hasn't.
ONS figures say the prices of purchasing properties in the UK saw a 8.5% increase over the year in England to £269,000. This is in fact the highest growth for more than six years.
This effect has been just as strong in Brighton & Hove seeing 11% house price growth compared to 2019. The average price of a property in Brighton is £439,632 according to Rightmove.
One reason why the market has been able to continue to grow was due to the Stamp Duty reduction which was implemented in July 2020. Whilst this holiday has helped maintain the property market, it is set to end on March 31st 2021. This could have a knock on effect on purchasing demand and subsequently house prices in the UK.
Despite high unemployment and the further financial impacts of the Pandemic, rental prices growth has increased for the sixth month in a row. Across the UK, rental prices rose 4.3% last month (January 2021) up from 4.1% in December 2020.
The South East of England saw the highest growth, recording a 10% increase in rent over the past 12 months. This is the first time an area outside of London has seen double digit growth since Hamptons records began in 2012.
There are a few reasons why rental demand continues to rise;
Money
As you have seen from some of the statistics above, the cost of purchasing a property in the UK is high. Especially in Brighton & Hove where flats sold for an average of £284,598 or semi-detached properties for £476,531. This compared to the average salary in the UK of only £28k per year, shows a large separation in property costs vs salaries.
Change in perceptions
Rental accommodation was once known as having poor living conditions and providing a lack of value. Rental properties in modern times are far different, with many regulations preventing poor conditions.
Flexibility
The rise of short term lets and short notice periods allows tenants to be flexible with their moving. This suits young adults who prefer to change jobs and move around much more than the older generations.
These are just a few reasons why rental demand is continuing to rise. In fact, it is expected that private renters are expected to make up 50.7% of the housing market by 2039. This is likely to cause high increases in rental prices and therefore, impressive returns on your rental properties.
Brighton & Hove rental market

See the following stats for current rental prices in Brighton for certain types of properties.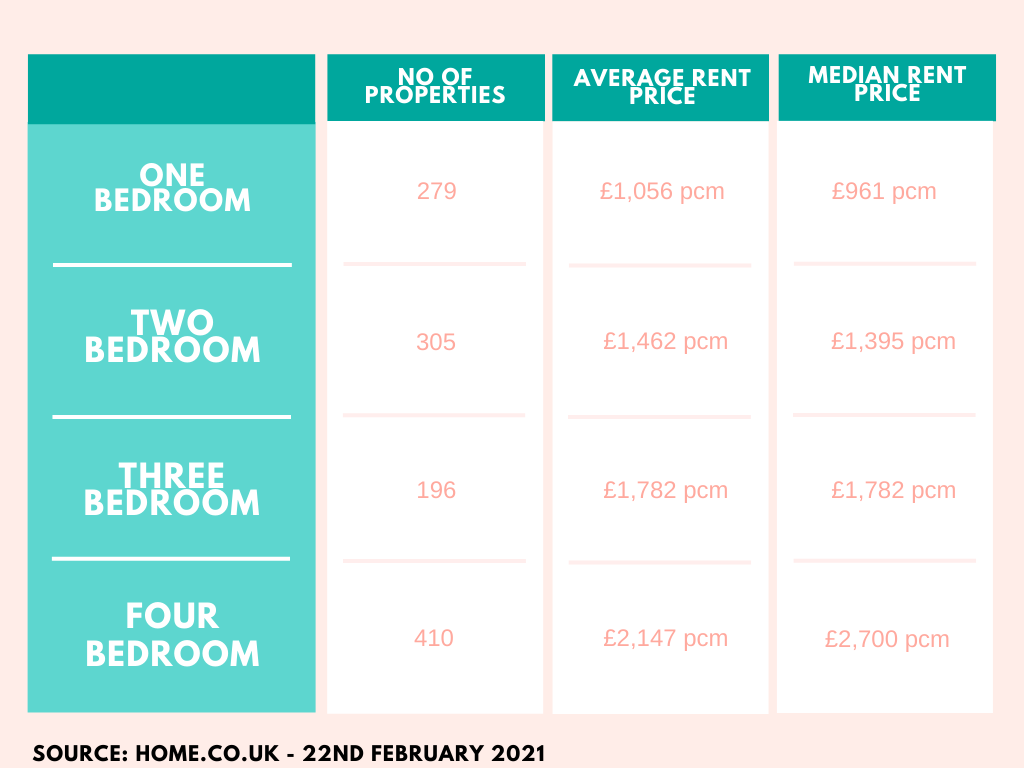 As you can see, rental prices in Brighton & Hove are extremely high, providing investors with excellent returns, with growth likely to continue for the foreseeable future.
If all of the statistics we have shown above haven't convinced you to invest in the Brighton property market. We will explain exactly why and how Brighton & Hove will continue to be a thriving property market for the coming years, providing you with beneficial returns in both sales and renting.
Why Brighton is a thriving property market
Location
Brighton is a seaside location with beautiful beaches, which is just a 45 minute train journey from London. Being this close to London results in lots of people moving to Brighton as an easy commute to their London jobs, with house prices being lower than London.
With London property prices continuing to increase to a level which has become massively unaffordable for the majority of the population. Lots of people are looking to move to areas within a traveling distance, with Brighton being a popular choice. The expectation that demand in Brighton properties is likely to continue to push house prices higher for the foreseeable future.
While the short journey to London is a primary reason, Brighton has beautiful parks and is situated right next to the south downs. In Brighton you've got everything; city, countryside and beaches.
Entertainment
Due to Brighton being a popular UK weekend getaway location, Brighton has a huge variety of entertainment avenues to go down. You have a massive variety of restaurants in the city centre or you can venture further out of the centre to places like the Brighton Marina.
In the city centre you will also find cafes, a large shopping mall and a thriving nightlife and pub culture. These are just a selection of typical facilities in which Brighton thrives, but the city also has a number of famous attractions that appeal to tourists. Attractions like the Brighton Pier, I360 and the Royal Pavilion, bring thousands of tourists to Brighton.
With Brighton being a popular tourist destination, there has been an increase in Holiday lets through AirBnB. This rental avenue could also provide brilliant returns during the summer months with many properties being rented out for £80-£130 per night in July.

Education
Brighton, Hove & and the surrounding areas are very family oriented due to the large selection of schools in the area. There are a selection of primary, secondary and colleges situated in Brighton giving families a variety of choices.
Brighton currently has the 12th best school in the UK in Brighton College, which is an independent school. As for colleges, BHASVIC is rated the 4th best college in the UK followed by Cardinal Newman which is ranked 27th.
As a result of Brighton & Hove's excellent education system and thriving quality of life, this has led to surrounding areas having increasing property prices. One of the most popular destinations for families at the moment is our hometown of Rottingdean and Saltdean. Rottingdean for example, saw 12% growth in 2020 vs 2019.
Safety
Following on from our small section on Brighton being a perfect city for families, the safety of the city is another reason why this continues to rise. According to a national survey in 2018, Brighton was voted as the third safest city in the whole of the UK, with only Edinburgh and Bristol finishing higher. This saw a positive change for Brighton residents with a previous survey in 2016 ranking Brighton 11th in the whole of the UK, which is still a very impressive ranking.
Investment into the Brighton property market
In this article, we have stated some brilliant reasons to invest in the Brighton property market. From rising house prices, rising rental income and a great city to live in for all people. Investment into the Brighton property market will likely bring you lucrative returns despite the high initial costs. Prices in Brighton will continue to rise for the foreseeable future allowing you long term gains when selling and renting out your property.